ADV has been in operation since epoch 208 at the start of Shelley and has the largest total rewards, likewise ADV2 (epoch 237) has been in operation longer than ADV3 (epoch 251).
Since starting operation our stake pools have generated rewards of more than million ADA for our delegators, with an average annual percentage return of % across all pools. Careful attention to stake pool architecture and operations means our rewards are among the very highest available.
2APR (Annual Percentage Return) is calculated by annually compounding returns:
lifetime return = (lifetime rewards – lifetime fees) / lifetime stake
Compounding assumes all epoch rewards are staked (73 epochs * 5 days = 365 days).
Rewards for each pool per epoch are proportionate to the total stake, allowing for random variation of block allocation. Note, historically there has been a higher variation of rewards for ADV3 as the pool was smaller, this pool is now close to saturation and is consistent with the other pools.
Reward lifecycle
The Cardano staking and rewards process is divided into 5 day epochs, with a snapshot to capture status at the end of each epoch. It takes 4 epochs from choosing a pool and delegating your ADA, to receiving your first rewards at the beginning of the 5th epoch.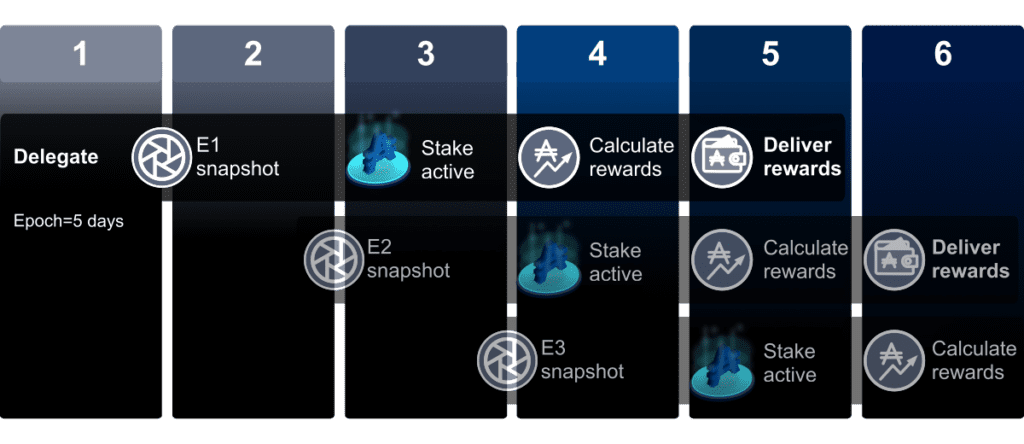 This means there will be a lead time of 15-20 days before rewards start flowing into your wallet (depending when you delegate in the initial epoch). You will continue to receive rewards from the pool for 3 epochs after you stop delegating.
Reward Calculations
Each epoch the pool rewards are calculated and adjusted for performance (a pool forging all allocated blocks will make 100% of expected rewards), then distributed to the pool operator and delegators. This happens in several steps:
First, the fixed and variable fees (340₳, 0%3) are subtracted from the rewards for the pool operator.
Next, remaining rewards are split fairly (proportional to delegated stake), amongst all delegators, including the pool owners.
Please note:
Fixed and variable fees are only deducted if the pool forges blocks.
Fees are shared proportionately between all delegators based on their stake. If your stake is 0.1% of the total amount staked then your share of the 340₳ fixed fee would be 0.1% or 0.34₳.
When you first delegate you are charged a deposit of ~2₳ which is refunded when you stop delegating. There is a 0.17₳ transaction fee.
ADAvault charges a minimum fixed fee. Our variable fee is among the lowest available3.
3 0% introductory offer until December 31st 2024.